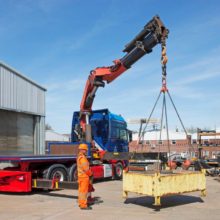 Now used by T H WHITE's 36 field-based engineers, the system consists of an online central control centre supported by an offline application, accessed on a tablet device, that enables them – crucially – to complete a digital inspection sheet in areas with no internet connection.
A family and staff owned business established for more than 180 years, T H WHITE is the sole distributor of Palfinger cranes in England and Wales. The company supplies the cranes to customers throughout the UK, providing lifetime aftersales support, including annual Reports of Thorough Examination as required by law. It was in the provision of routine service and maintenance for their Fleet Managed customers that the management team at TH WHITE Lorry Cranes first identified that r2c Online could enhance its operation.
John Farmer, Head of Aftersales, said: "In the past (like much of the marketplace) our engineers would go to site, complete a handwritten LOLER inspection and post the paperwork back to the office. We would then key the information into our system, photocopy and send a copy to the fleet office. It was a very manual process, with endless filing cabinets. It also meant an inevitable delay from the inspection being completed to the customer receiving their paperwork."
With r2c Online, once the inspection is completed by the engineer on site, the system automatically emails a copy to all the necessary parties, as well as archiving the document in a digital filing cabinet making the asset accessible anytime, anywhere.
Farmer stated: "We have seen a dramatic reduction in time spent on administration. Our Field Service Engineers complete more than 800 jobs a month, which were previously all processed manually. Today quite literally at the push of a button everyone knows that their crane is compliant without the need for posting paperwork and making phone calls.
"The level of information management is much more precise. It's clean, consistent data in a central portal, providing lifetime information on a vehicle and ancillary equipment. This can help us and operators make informed decisions regarding their maintenance operation which is good news for us and good news for our customers."