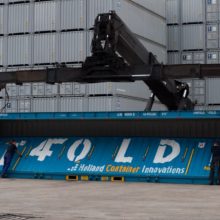 The company, based in Delft in the Netherlands, was one of only 33 from a total of 960 applicants to receive funding from the second phase of the European innovation program Horizon 2020's SME instrument.
Currently, the transportation industry spends about €25 billion a year on moving empty cargo containers. Foldable containers are a solution to cutting both the cost and CO2 emissions associated with this. The idea was initially conceived by the Delft University of Technology and resulted in the establishment of HCI in 2008. The 4FOLD container can, once emptied, be reduced to a quarter of its normal size. HCI launched the product at a major exhibition and conference for the container industry in Rotterdam in 2014, and the grant has now been awarded to catalyse its market introduction.
Simon Bosschieter, one of the founders of HCI, said: "The 4FOLD containers are a breakthrough solution and is ready to change the current landscape of the international transport sector. The positioning of empty containers is one of the most complex problems concerning global freight distribution and represents large costs. The cost needs to be reduced while there is also an expanding global demand to reduce CO2 emissions. HCI can make the difference."
On winning the grant, he added: "It is a great result, especially considering the low amount of projects that have been awarded. It shows that the European Committee has high demands for this type of proposals. We are very pleased that the European Union helps companies, such as HCI, to realize its ambitions and innovations.
"HCI can accelerate the market introduction with the grant from the SME instrument. In order tovince the logistic sector of the added value of 4FOLD, a large scale demonstration will be executed. This will provide the opportunity to introduce our innovative product to the market."