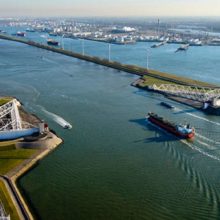 The Port of Rotterdam Authority has begun preparations to deepen the Nieuwe Waterweg canal and Botlek basin to enable the passage of larger vessels with greater cargo volumes.
Every year, over 15,000 sea-going vessels move through Nieuwe Waterweg, but their increasing size and draught means some ships can no longer reach their berth at Botlek when fully loaded.
The Botlek area is one of the largest petrochemical and chemical complexes in Europe: a vast cluster of oil refineries, chemical plants and storage companies, producing petrol alongside the likes of sunflower and coconut oil. The deepening of Nieuwe Waterweg means that larger-draught vessels will be able to access the Botlek area. Consequently, the berths and quays along its ports will be deepened at the same time as the canal.
Nieuwe Waterweg needs to be deepened by another 1.5 metres, along a distance of 25 kilometres. The permit application specifies an average depth of 16.30 metres along the stretch between Hoek van Holland and the Benelux Tunnel. Import and export firms specialising in fuels and oil products in particular stand to benefit from this development.
Edwin Hupkes, Project Manager at the Port Authority, said: "The shipping companies, the owners of the vessels, opt for ships that can call on a range of ports. They are deepening the Panama Canal as we speak. The extended depth will serve as the new standard. As the port of Rotterdam, we need to anticipate this."