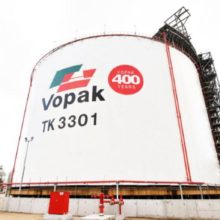 The move comes as the result of a business review, announced in July 2014, which led to the decision to update its terminal portfolio criteria in accordance with the changing energy and petrochemical landscape. Part of this was the intention to divest around 15 primarily smaller terminals.
The agreed net cash proceeds, based on the debt-free enterprise value of the divested ownership, amounts to approximately EUR 26 million (after capital gains tax). From a financial reporting perspective the divestment will be reported in Q2 2016 and will result in a small exceptional gain.
The proceeds from this transaction will be used to further strengthen Vopak's flexibility to execute its selective capital disciplined growth strategy and to support its consistent dividend policy, while maintaining a robust financial position.
Royal Vopak currently operates 66 terminals in 24 countries with a combined storage capacity of 33.5 million CBM, with another 4.1 million CBM under development, to be added by 2019.