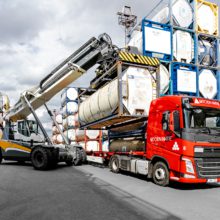 The reachstacker is the latest machine from Liebherr Maritime Cranes and was selected by Katoen Natie to increase the container throughput at its intermodal terminal in Antwerp.
The design of the LRS 545 is based on the latest technology in order to maximise driver comfort, performance and eco-friendliness. It is equipped with a 4-cylinder, 230kW Liebherr diesel engine. This downsized engine has lower fuel consumption and reduced emissions. To fulfil stage IV and tier 4 final legislative requirements, Liebherr relies entirely on a selective catalytic reduction (SCR) system developed in-house which reduces exhaust emissions without a sacrificing performance.
The machine stacks five containers high in the first row and four containers high in the third row. Moreover, it is capable of handling 45 tonnes in the first row and 21 tonnes in the third row.
The distinctive feature of the newly designed cabin is a large glass panel that unites the front window with the side windows. The exclusion of the A-pillar combined with the curved window design allows a panoramic view for the driver. Wide angle mirrors and a rear view camera ensure a complete view behind the machine. Ergonomic adjustments of the driver seat ensure high comfort and so reduce fatigue.