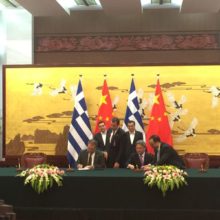 On 4 July, China COSCO Shipping Corporation Limited and the Hellenic Republic Asset Development Fund (HRADF) signed a Letter in the Great Hall of the People in Beijing, confirming that the conditions defined in the previously signed Share Purchase Agreement have been fulfilled. It marks a decisive achievement for COSCO Shipping's acquisition of 67% equities of the Piraeus Port Authority.
On 8 April this year, COSCO Shipping signed the Share Purchase Agreement and Shareholders Agreement with HRADF. On 10 June, the Piraeus Port Authority held an Extraordinary General Meeting, in which the Board of Directors approved the SPA Agreement, and on 22 June, the Hellenic Competition Committee gave its approval for the Transaction as falling within the scope of the Greek law on merger control. The Greek parliament ratified the landmark concession agreement on 30 June 2016 by an overwhelming majority, which concluded the series of necessary approvals before COSCO completes the transaction. This week's signing ceremony will further deepen the bilateral economic and trade exchanges between the two countries.
COSCO Shipping has been making high-quality investments in the port of Piraeus since 2009. Over the last few years, the company has successfully enhanced the competitiveness and significance of Piraeus in the international shipping market, creating a modern large-scale container terminal with leading technology, the fastest growing port in terms of port throughput among the Top 100 container ports in the world, and an important hub for many global container lines in the East Mediterranean area. The throughput of Port of Piraeus rose from 880,000 TEU in 2010 to 3,360,000 TEU in 2015, and the ranking of its throughput also rose significantly from 93rd to 39th.