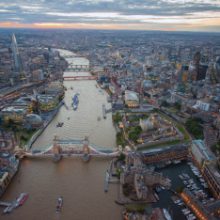 The Vision's six stated goals include achieving the busiest ever Port of London, handling 60-80 million tonnes of cargo a year, and ensuring more goods and materials (over four million tonnes each year) are routinely moved by water between wharves, thereby taking more than 400,000 lorry trips off the region's roads.
The Thames is already the UK's busiest waterway for passengers and freight and home to the UK's second biggest port by tonnage of goods handled.
Speaking at the launch, London's new Deputy Mayor for Transport, Val Shawcross, said: "This blueprint for the future of the Thames can make an important contribution to the Mayor's aim of encouraging greater use of the river for the transport of passengers and freight. We want everyone with a stake in the Thames to come together and help guarantee the success of this vital waterway."
Achieving the targets in the Vision will demand partnership working between the organisations who have helped develop the Vision over the last 18 months, including the Port of Tilbury, DP World London Gateway, the Greater London Authority, MBNA Thames Clippers, City Cruises, Livett's Group, the RPSB, British Rowing and many more.
The Port of London Authority chairman, Christopher Rodrigues, said: "The Vision draws together all our collective ambitions for the Thames. Work on the actions is already well underway and I'm excited to see the progress we can make between now and next Spring when we have our first report back of progress."