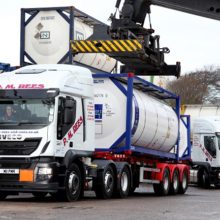 In another deal completed in recent months, two Chinese lessors, Dong Fang and Florens, tied the knot.
Both moves followed last year's merger between Seaco and Cronos, after Cronos was acquired by Bohai Leasing, Seaco's parent group. On the basis of combining Triton and TAL, the revenue earning assets of the new giant would be US$8.7 billion on an estimated global container market share of 25 percent.
The newly formed company expects to achieve $40 million in annual cost synergies, it said, prior to commencing trading on the New York Stock Exchange In accordance with the terms of the agreement, Triton shareholders own approximately 55 percent of the equity of the combined company and TAL shareholders own approximately 45 percent.
TAL shareholders became entitled to receive one common share of TIL for each share of TAL stock owned on the closing of the merger.
Chairman and CEO Brian Sondey stated: "We are pleased to close this transformational transaction and look forward to capitalising on the significant operating and financial benefits of the combination to provide an unmatched level of service to our customers and create long-term value for our shareholders."
Both lessors have substantial fleets of standard dry box containers. But whereas Triton's special containers were focused on open tops, flat racks and reefers, TAL also brings some 10,000 tank containers to the party.