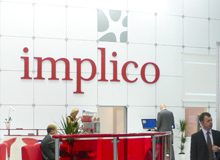 This follows Hamburg-headquartered Implico's presence at leading tank terminal fairs for Europe (StocExpo) and the Middle East and Africa (Tank World Expo). Industry experts are forecasting considerable growth in the Asian tank terminal market in the coming years. Michael Martens, Managing Partner at Implico, said: "There is a direct correlation here: terminal construction is more widespread in regions with strong population growth. At the end of the day, the product has to be stored where it is used." This is also generating increased demand for equipment, software and process solutions for new and existing tank farms.
Implico's supply chain experts at Tank Storage Asia will show how companies can operate their tank terminals as efficiently and cost-effectively as possible. The international consulting company will present its OpenTAS terminal automation system there, among other things. Martens added: "In many tank terminals or refineries in Asia, we still see process steps being performed manually that we could easily automate. This would greatly speed up processes and dramatically reduce error rates. The iGOS cloud solution will probably also be interesting for many tank terminal operators."
iGOS (Implico Global Operation Services) is the name used by Implico to bundle a variety of services for data communications and business process networking for the oil and gas downstream industry. More and more companies are migrating all of their logistics, maintenance and business processes to the cloud along with the interface to their collaborating partners. They source the functionality they need from cloud services that they book and cancel flexibly and cost effectively – without operating on-premises systems with in-house teams.
Also at Implico's stand (C2), Timm Elektronik will be exhibiting its EUS-2 overfill prevention controller for bottom loading tank vehicles and the EKX-4 grounding control device for top loading applications. In addition, the North German company will be presenting the latest generation of the marine grounding system, SEK-3, in conjunction with its Singaporean distribution partner OSK Industrial Pte Ltd.