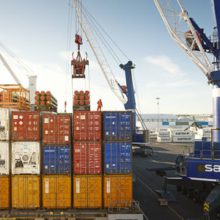 Equipped with the latest and most advanced cooling and freezing equipment available, the 200 reefer containers arrived in Reykjavik from China, where they were manufactured.
Gudmundur Oskarsson, Samskip North Atlantic Director, Logistic Department, said: "Following increased demand to export Icelandic seafood products, with this investment we aim to further expand the network while offering an even more sustainable and cost-effective solution to our customers, with enhanced quality assurance for our customers' temperature-controlled goods and perishables."
In total, Samskip has more than 13,000 containers at its disposal, ranging from 20ft to 45ft pallet-wide high cube containers including reefers, curtain-siders and flat-racks. The company offers a wide range of tailored routing options, utilising road, rail, sea and inland waterways, to move containers door-to-door between more than 30 countries from the UK and Ireland to northern, southern and central Europe.