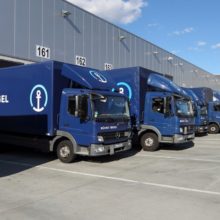 The global logistics provider will migrate its processes for transport assignment, transport execution and monitoring in the FTL and LTL segments to the TRANSPOREON platform in Europe in order to accelerate and simplify interaction with its customers and carriers. Use of the e-logistics network will also enable Kuehne + Nagel to increase operational efficiency and real-time transparency along the transport chain.
This innovative approach is part of the company's digital evolution and underpinned by experience gained through the acquisition of ReTrans, a US overland logistics solutions firm, successfully using a digital logistics platform to connect to its carrier base.
In Europe, Kuehne + Nagel chose the well established TRANSPOREON network, already used by more than 57,000 carriers in their day-to-day operations. This partnership will allow carriers to use one integrated platform instead of signing up for multiple market places. A proven onboarding process will allow Kuehne + Nagel to easily connect with additional carriers. The carriers will have real-time access to Kuehne + Nagel's transport requirements across Europe and be able to quickly respond to the demand with their available capacity.
Dr Nils Wemhoener, Senior Vice President Operations Overland at Kuehne + Nagel, said: "The new process allows optimising truck load factors, reducing operating costs and environmental impact. Using the TRANSPOREON platform will therefore drive efficiencies for our customers and carriers."
The rollout will begin in France, one of Kuehne + Nagel's key overland markets, by the end of this month.