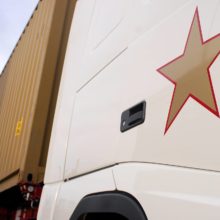 The acquisition follows that of MacIntyre Transport earlier this year and brings the total Turner Group operation to 750 owned vehicles and 450 dedicated subcontractors working daily on the containers side. The Group will now have over 1750 vehicles operating across its three core divisions – Temperature Controlled, Tankers and Containers. The Group's annual turnover will increase by £95 million to approaching £400 million.
Paul Day, Managing Director at Turners, said: "I'm incredibly pleased to have been given the opportunity to purchase Goldstar. Goldstar is the second largest container operator in the UK and will give our Group a growing presence in this important sector in our industry."
Goldstar currently operates 350 own vehicles and a similar number of dedicated subcontractors from 10 locations across the UK. It will continue to be run as a separate company and managed by its existing Board of Directors.
Goldstar Managing Director, Matthew Ashworth, stated: "The support of Turners will be hugely beneficial to the long-term success of Goldstar, its customers and its staff. I am excited by the future opportunities we'll have, and I look forward to continuing to drive the business forward with my fellow Directors."
Day added: "Goldstar is very well managed, remains customer focused and has achieved consistent growth of the last 18 years. This opportunity further strengthens our service levels and flexibility to our existing and potential customer base within this important industry sector. Goldstar has an extremely loyal workforce and one which Turners looks forward to supporting and working with in the future."