News
China's shipping professionals to train at Port of Antwerp
APEC-Antwerp/Flanders Port Training Center has signed a Memorandum of Understanding with the Ministry of Transport of China's Profession Qualification Authority, focusing on the management of dangerous goods in ports and along waterways.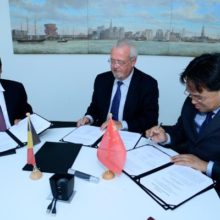 The Profession Qualification Authority is the Chinese government organisation responsible for entrance into the regulated transport markets in the country. It arranges training and issues accreditation. This MoU will eventually generate a number of tailor-made training options at APEC-Antwerp/Flanders Port Training Center in Antwerp.
Antwerp is the largest chemical cluster and the second largest port in Europe. Annually more than 60 million ton chemical goods are loaded or discharged in the port of Antwerp, and as a result it has built up extensive knowledge and experiences in the field of dangerous goods management on site.
APEC-Antwerp/Flanders Port Training Center is affiliated to the Antwerp Port Authority, specialising in the training of all port-related areas. Since 1980, APEC has trained more than 4,000 Chinese professionals from ports, shipping companies, logistics companies and transport-related government officials. From 2004 onwards, APEC-Antwerp/Flanders Port Training Center has been recognized by SAFEA (China State Administration for Foreign Experts Affairs) and many government organisations and companies in China are already headed up by APEC alumni.
Kristof Waterschoot, Managing Director of APEC, said: "APEC has the tradition to transfer knowledge and experiences to the world port community. We build up port friendship through port knowledge. We are happy that the Chinese government has chosen APEC as their partner. We are confident to take on this new challenge."