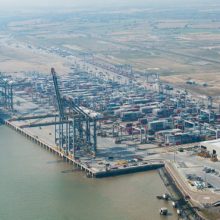 CMA-CGM's NEMO (North European Mediterranean Oceania) and Hapag-Lloyd's EAX (Europe, Australia Express) combined service will begin calling at London Gateway from the start of 2017. The agreement means that London Gateway is handling all the UK's direct services to Australia.
In addition to four port calls in Australia, the service will provide the DP World port with more direct links between Singapore, Malaysia, India, Sri Lanka, Egypt, Malta and Italy.
The full NEMO/EAX service loop into the UK from Australia comprises: Fremantle, Melbourne, Sydney, Adelaide, Singapore, Port Kelang, Chennai, Colombo, Cochin, Damietta, Malta, Salerno and DP World London Gateway. Outbound from the UK, it take in Rotterdam, Hamburg, Le Havre, Fos Sur Mer, Genoa, Damietta, Pointe Des Galets and Fremantle.
Rob Waterman, UK CEO, CMA CGM, said: "CMA CGM has been constantly innovating to offer its clients new sea, land and logistics solutions in the UK and worldwide. The collaboration with DP World London Gateway Port will give our customers excellent service levels and we are pleased to offer this new port of call."
Cameron Bowie, UK Managing Director, Hapag-Lloyd, added: "DP World London Gateway has good access to road and rail connections along with quick and reliable truck turnaround times, so we are confident this service will be providing operational efficiencies from the start."
James Leeson, Head of Port Commercial, DP World London Gateway, said: "We're delighted to add the NEMO/EAX service to our portfolio. With this new service we are now the only UK port to provide direct services to Australia, giving importers and exporters a unique trade advantage. This service also enhances our connection to the Mediterranean, opening up new markets for port and logistics park users at DP World London Gateway.
"This is testament to the excellent service the port is offering. Unmatched weather reliability, consistent truck turnaround times, high ship-side productivity and superb customer service are all combining to provide customers with a reliable, safe and fast service."