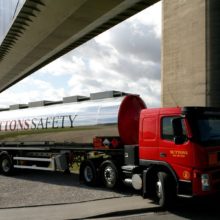 Vivergo is a world-scale biofuels business, based in East Yorkshire, which produces enough bioethanol to meet up to 50% of the UK's current demand.
The win further strengthens Suttons' position in the biofuels market. Earlier this year, the company announced its decision to end an eight-year relationship with British Sugar in order to concentrate on the hazardous chemicals, gases and fuels sectors.
Greg Lofts, Commercial Director, Suttons Tankers, said: "Our reputation in this niche sector is well established with Vivergo the latest business to be attracted by our track record of providing a flexible, reliable, and safe service."
Rob Murray, Supply Chain & Optimisation Manager, Vivergo, said: "Suttons' strong safety performance and the ability to provide an innovative flexible solution was crucial in our decision to appoint them.
"It's reassuring to be working with a specialist logistics company which has a detailed knowledge of the products as well as access to drivers and operational planners who understand the complexities of our business."
October also saw Suttons' North American team secure an important contract with Cyanco, the world's leading manufacturer of sodium cyanide.
Due to the toxic nature of sodium cyanide and strict regulations surrounding its storage and transportation, Cyanco was looking for a logistics partner with significant experience in hazardous materials.
Suttons' technical department worked closely with Cyanco's technical team to update an existing tank container solution, which features a sparger system designed to dissolve solid sodium cyanide briquettes into a liquid sodium cyanide solution, used at multiple gold mining sites across the world.
George Easterling, Cyanco's Supply Chain Director, said: "We have a strong working relationship with Suttons and are highly impressed by their flexible and innovative approach.
"We are committed to safety of not just employees and customers, but the environment as well.
"We maintain strict controls that manage risk and are pleased to have a responsible and solution driven partner in Suttons to work with us to continuously develop our processes and procedures."
Steve Lonsdale, Business Unit Director, Suttons Americas, said: "This is another important contract win for Suttons.
"The client was looking for a company with world class safety, security and compliance credentials, plus a proven track record in managing technically challenging solutions on their behalf.
"Suttons had the right blend of knowledge, experience and infrastructure to meet their specific brief."