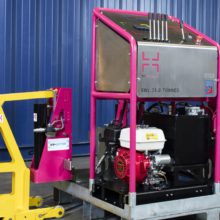 UK engineering company Hy-Dynamix has joined forces with load cells and equipment supplier Dynamic Load Monitoring (DLM) to build time- and cost-saving new wireless reporting technology into its portable container weighing solution, the Hy-Weigh.
The four-corner hydraulic jack system, launched in May this year, raises containers in situ, and is now operable in a wide range of high and low temperatures, maintaining an accuracy reading of +/-2%, which is required to satisfy the Safety of Life at Sea (SOLAS) Verified Gross Mass (VGM) weighing requirements.
DLM's load monitoring technology means that Hy-Weigh can now give a graphical view of a container and load readings at each of its four corners, as well as the total load reading and centre of gravity, in real-time and wirelessly.
"It is almost six months since the new SOLAS regulations became law, and we are now starting to understand the cost implications of container weighing," said Graeme Parkins, Managing Director, Hy-Dynamix.
"There are costs associated with every stage, from ongoing administrative commitments, to weighbridge, and now new port charges, and I estimate the global bill for VGM implementation to be in the region of $4 billion a year.
"Our products provide bespoke, portable, and cost-effective solutions to implementing VGM weighing and, working with DLM, we have now also incorporated important technology which will save customers time and cost."
DLM has over 25 years' experience in the design and manufacture of load cells and load monitoring systems, including fitting a twist-lock based container weighing solution as an 'after-market' modification to existing port vehicles and lifting equipment at ports and terminals.
The DLM technology incorporated into the Hy-Weigh jack delivers a suite of benefits, including real-time load and centre of gravity readings that can wirelessly integrate with existing Terminal Operating Software systems.
"Hy-Dynamix has developed a truly elite product and partnering with like-minded engineering companies has been one of our growth strategies in recent years," said Martin Halford, Managing Director, DLM.
"The new partnership is an ideal fit for both DLM and Hy-Dynamix; between the two companies we are able to cover all requirements for container weighing from weighing on port vehicles using the DLM Twistlock Load Cell and Container Weighing System, to before they reach the port at freight forwarders using the Hy-Weigh.
"Combining our existing container monitoring system into the Hy-Weigh enables a host of unique functionality for the user, including the ability to output load values to Terminal Operating Systems and other such systems, as well as optional remote access."
Hy-Dynamix is also launching new products, including G-jacks, a lower cost system for customers who need to weigh grounded containers, and do not require the option to move them around.
"In response to market intelligence, we are also working on the design of a dedicated jack to integrate with Hy-Weigh, which will allow containers loaded on a trailer to be weighed," said Parkins. "Hy-Weigh T-Jacks will be launched next year."