The Chairman of the UK Major Port Group (UKMPG), the trade association that represents most of the country's larger commercial ports, has pledged that its members, who between them own and operate over 40 ports, accounting for more than 70 percent of the total tonnage handled in UK ports, will help Government make Brexit a success by collaborating to create a regulatory environment that boosts the UK's international competitiveness.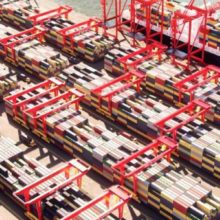 Speaking at the UKMPG Annual Parliamentary Reception, James Cooper said that Brexit represents an opportunity for Government to introduce ambitious policies that will support UK trade and exports.
He stated: "We need to work across many Government departments – with the Departments for Transport, Brexit, International Trade, and Business, Energy and Industrial Strategy. This is to ensure Brexit is a success not only for the ports industry but for the nation."
The Minister of State for Transport, the Rt Hon John Hayes MP, also spoke at the Parliamentary Reception and welcomed the ports sector's positive approach. He echoed Cooper's challenge to both industry and Government to be "ambitious, enterprising and creative" in taking up the opportunities that Brexit presents.
Cooper also called on the Government to adopt a range of pro-trade policies in the wake of the Brexit referendum.
He said: "British industry must be able to easily and cost effectively access its ports for the import of raw material and the exports of finished goods. We look to Government to deliver on the promises it has already made in respect of projects that have already been announced and to raise the priority of trade in the allocation of future infrastructure resources.
"While the issue of free movement of people was a major factor in the referendum, Government must set itself the target of ensuring the best possible access to international markets and minimising disruption at UK borders to the flow of goods and people. And Government must vigorously pursue the opportunity presented by Brexit to secure new trade deals with the rest of the world as soon as possible.
"We need a regulatory environment that supports ports in our ambition to fulfil our part in Britain's post Brexit trading success."
Current members are Associated British Ports, Belfast Harbour Commissioners, the Bristol Port Company, DP World London Gateway, Forth Ports, Hutchison Ports UK, PD Ports, Peel Ports and the Port of London Authority.