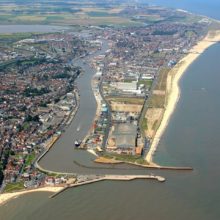 BPA Chairman Rodney Lunn wrote to the Transport and Environment Ministers outlining the concept, which would see both marine and land areas within ports being classified as special areas for growth. These zones would be safeguarded against the impact of marine designations and planning system challenges, allowing ports to fast-track developments and have certainty about future activities.
Ports throughout the UK now face increasing restrictions stemming from marine and planning designations, often representing a challenge to their statutory duties and future plans. As pre-existing economic areas, ports are defined by in private legislation and are unable to move or change their limits, forcing them to undertake costly programmes to continue operating.
Lunn said: "Ports are vital clusters of jobs and trade, supporting coastal communities as well as safeguarding harbour areas for commercial and recreational users. As we move into a new trading environment post-Brexit, it is important that the sector remains competitive.
"Environmental and planning constraints in ports statutory limits are becoming increasingly difficult to work with. Our proposed 'port zones' would allow ports to continue to fulfil their duties to maintain safe harbours whilst supporting jobs and trade without endangering the environment."