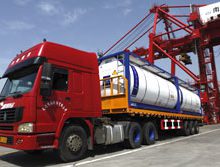 On 1 January 2017, the second step of the transitional provision in accordance with the ADR/RID special provision TP37 ends – meaning 30 additional products will be added to the list of chemicals that can no longer be stored or transported in standard UN Portable Tanks. The stricter rules will require these products to be shipped in Portable Tanks meeting the technical requirements of T20 or T22 classification.
As a result, EXSIF Worldwide is making new T20 and T22 tank containers available for lease in several key locations and in different specifications to meet client needs, with 20,500, 22,500, and 25,000 litre capacities. Tanks will be offered with or without baffles.
With a fleet of more than 46,000 tank containers, EXSIF Worldwide is able to provide standard and specialised intermodal tanks ranging in capacity from 7,500 to 35,000 litres. Additionally, the company supplies gas tanks, cryogenic tanks, off shore tanks, reefer tanks, and lined tanks dedicated to specific chemicals.