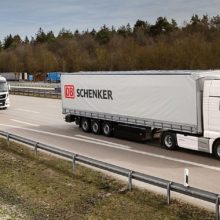 The partnership – the first of its kind – intends to follow an initial planning stage with trials of a truck platoon on the Digital Motorway Testbed on the A9 motorway between the DB Schenker branches in Munich and Nuremberg in 2018. The second phase will then involve the deployment of self-driving trucks on the DB Schenker grounds in Nuremberg.
The primary objective of the platooning – whereby the individual trucks, fitted with technical driver assistance and control systems, will have a consistent distance of around 10 metres between them and be connected by electronic 'drawbars' in the form of car-to-car communication – is to enable slipstreaming and thus achieve fuel savings of up to 10% for the entire platoon. Carbon emissions are also reduced.
The partners will also look at the scope for combining platooning with other digital services as well as questions of costs and savings potential.
The project will additionally investigate the requirements that platooning drivers have to satisfy as well as the general impact of this new technology on the truck as a workplace, now and in future.
Jochen Thewes, Chairman of the Management Board of DB Schenker, said: "Many of these things are still a long way off into the future, but we wish to test and help to shape this future, and to provide inspiration and incentive. We want to integrate networked, self-driving trucks into our logistics processes and find out what benefits – apart from the savings in fuel consumption – can be achieved for our customers and operational processes."