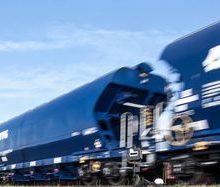 VTG Aktiengesellschaft is one of Europe's leading wagon hire and rail logistics companies, with a fleet of more than 80,000 railcars across its three interlinked divisions of Railcar, Rail Logistics and Tank Container Logistics. The Group provides tank cars, intermodal wagons, standard freight wagons and sliding wall wagons, alongside a full spectrum of multimodal logistics services, with a specialist focus on the transport of liquid and sensitive goods.
Dr Massenberg has been CEO of Benteler Distribution International GmbH since 2013 and a member of the VTG Aktiengesellschaft Supervisory Board since 2006.
Dr Scheider was elected unanimously as Honorary Chairman of the Supervisory Board and will therefore continue to be associated with the company.
The CEO of VTG Aktiengesellschaft, Dr Heiko Fischer, said: "I am very pleased that we have a new Chairman of the Supervisory Board, Dr Massenberg, who has known the company and our industry for many years. This gives us the necessary stability and continuity in times of change, which is of great importance for strategic and long-term decisions in our business.
"At the same time, I would like to thank Dr Scheider for the trust-based oversight and cooperation and his unwavering support of our development initiatives over the past 10 years. Without his experience and advice, the successful development of VTG would have been very difficult."