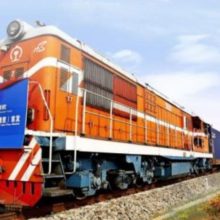 The inaugural train left the city of Yiwu in eastern China on 1st January, covering the approximately 7,500 miles through Kazakhstan, Russia, Belarus, Poland, Germany, Belgium, France, and the Channel Tunnel in half the time of the equivalent journey by sea.
The new service, run by Yiwu Timex Industrial Investment Co, is expected to be used by shippers of premium products such as food, electronics and automotive parts. The Chinese company's UK agent is One Two Three Logistics, which is being supported by Brunel Project Cargo. Following the initial journey, regular weekly trains are expected to operate for three or four months to assess the market.
The list price for delivering a 40ft High Cube container is US$4,600 for the westbound journey and US$2,500 for the three-week return journey to Yiwu, reflecting lower demand in the eastbound direction.
The new Silk Route cannot be covered by a single train – it is necessary for containers to be transhipped to and from the former USSR's 1,520mm gauge rail network at the China/Kazakhstan and Belarus/Poland frontiers.