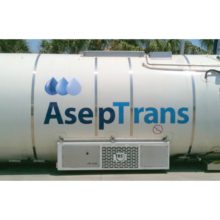 AsepTrans is claimed to be the only aseptic tank operator in the world and has been developing and refining the technology for more than 10 years.
The firm uses a large fleet of super-insulated and refrigerated tanks, and the business and operations will merge into the Odyssey FoodTrans LLC unit, doubling both Odyssey's fleet of intermodal ISO tanks dedicated to food-grade liquids and its ISO tank chassis fleet.
In 2016, Odyssey posted its 14th consecutive year of growth, with net revenue up 8%. It specialises in acquiring companies operating in complex markets, and implementing efficiencies. Last Year Odyssey also bought Linden Bulk Transportation.