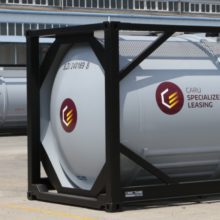 As a global provider of container rotation systems for the mining and grain industries, ISG has helped develop the containerised movement of bulk cargoes throughout the region, creating deep connections with a wide variety of customers and markets.
CS Leasing aims to combine ISG's local expertise and with the leasing firm's access to capital, as well as a diverse range of containers and leasing solutions. Additionally, CS will collaborate with ISG by working with customers that require a leasing option with ISG's containerised bulk handling solutions. CS Leasing will use its expertise to match the desired container solution to the best leasing product, delivering the right containers ready for use at the customer's site.
The two have already collaborated on projects in South America and Northern Europe. ISG provides pit-to-ship solutions and specialises in containerised mining equipment and containerised bulk handling solutions. Established in 2005 and based in New South Wales, Australia, the company serves customers in Australia, Asia-Pacific and Latin America.