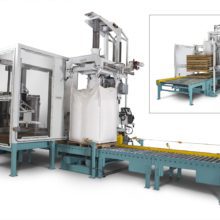 The complete process sequence, including: pallet/base supply, slipsheet pick-and-placement, bulk material infeed, packaged contents isolated densification, NTEP-certified weighing, and finished-package accumulation conveyance operates on paired, process-specific structural framework chassis with all automation and control functions centralised to a single, menu-driven HMI to enable standardised and system-wide data reporting.
The integrated construction and controls infrastructure provides the basis for reduced total cost of ownership, NBE says, relative to the common systems integration concept of bolt-together, divergent 'islands' of equipment, while also improving process performance and the accuracy of production data shared throughout the enterprise.
In the automatic pallet dispenser phase manual handling of pallets is eliminated. The pallet stack, delivered by forklift, is conveyed into the dispenser where the stack is automatically formed and each pallet is aligned and staged to advance into the slipsheet dispenser. The slipsheet dispenser magazine can hold up to 2,500 lbs of sheet. Sensors and automated controls guide the dispenser lift carriage along horizontal and vertical flanged cam rollers to provide highly accurate pick-and-place of up to 30 slipsheets an hour.