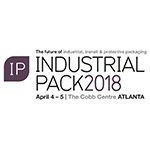 Easyfairs believes that Industrial Pack fills a gap in the market where buyers currently need to attend multiple sector events to source suppliers and will be a dedicated event for the industrial, protective and transit packaging industry with committed support of major industry association partners, IPANA (Industrial Packaging Alliance of North America) and RIPA (Reusable Industrial Packaging Association).
The show aims to serve all market sectors with valuable content, including association conferences and free-to-attend seminars, as well as a co-located networking dinner, golf day and the launch of the Industrial Packaging Awards.
The exhibition will showcase over 120 manufacturers of industrial, transit and protective packaging, including fiber drums, steel drums, industrial bulk containers (IBCs), and pallets, as well as custom-made, corrugated, ruggedized and plastic transit packaging. It will attract over 2,500 buyers from all industry sectors, from food & drink, pharmaceutical and FMCG, to automotive, chemical, oil, construction and engineering.
Matt Benyon, Managing Director of Easyfairs UK & Global, comments: "We are very excited about this new launch, taking our portfolio to a new city and serving a specific community sector. Industrial and transit packaging are represented within of many of our large European packaging shows, but it is reflective of the size and importance of this type of packaging (with 40% of the global packaging industry being industrial, transit and protective) that we are bringing this new brand to market. Atlanta was a perfect fit for our first event, with the US being the second largest global producer of industrial packaging."
The launch of Industrial Pack takes Easyfairs' portfolio to 42 events in 12 countries and 19 cities with the packaging portfolio already comprising the Packaging Innovations, Empack, Luxury Packaging, Label&Print, Pentawards, ADF and PCD brands.