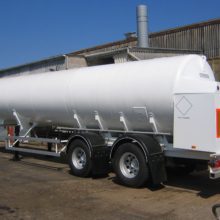 Although UBH began life as a tanker manufacturer in the 1950s and 1960s, during the 1990s, the company, then owned by Sea-Containers, stopped producing road barrels, to concentrate on the large-scale production of tank containers.
In recent years, however, the company has developed an increasingly diverse range of products for bulk liquid and gas transport, including cryogenic tanks and specialist tanks for a variety of offshore oil & gas applications.
This product offering has now been complemented by the addition of road tankers, ranging from general purpose chemical tankers through rubber-lined tankers for acids, vacuum tankers for the waste industry and cryogenic tankers for industrial gases and LNG.