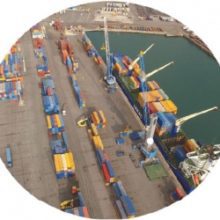 A press conference was held at transport logistic, Munich, jointly presenting the initial outcomes of the strategic partnership to significantly simplify the transport management and reduce related times and costs thanks to the integration of information flows for logistics platform managers.
"MILOS® is a unique solution addressed to terminals, ports and logistic operators that permits them to speed up processes and procedures in a meaningful way, to enhance their visibility of goods and to reduce transit time along the entire supply chain", declared Mr. Luca Abatello, CEO of Circle. "I'm glad we have reinforced our collaboration with Binary System, with whom we share not only Italian nationality but also the willing to continue to pursue Research & Development investments, as well as business strategies on foreign markets".
Circle's CEO mentioned the goal of a further expansion of the company's in foreign Countries, in particular in the Mediterranean and Middle East, where Circle already has a significant portfolio of Clients interested in completion of the Supply Chain digitalization, the optimized management of operational and customs components, and to the IOT applied to intermodal logistics. Moreover, new projects related to rail development of Central-Eastern Europe in line with the European Union's political priorities of TEN-T corridors are under way.
During his speech Mr. Roberto Toscani, Business Development Manager of Binary System and founder of SoftRail®, a suite of modular software for integrated management of shunting and rail operations, stated: "The European market is giving us great satisfaction and we are convinced that our partnership with Circle is an excellent occasion to strengthen our presence in Europe. For this reason we decided to invest on projects focusing on the integration of our products with Circle's MILOS® system and to finalize a common strategy of business and distribution cooperation capable of satisfying the increasing need of transport and logistic operators for synergic and interoperable ICT solutions".
Lugo Terminal, the logistics hub, located in the middle of Romagna region between Northern Europe and Southern Italy, could tangibly simply booking procedures into a digital format with the possibility for Clients to perform the booking procedure both for rail traction and for first and last mile road transport through MILOS® Booking module. In addition to this, they have been able to plan and manage all rail activities, gate processes, terminal operations management with mobile devices and the management of shunting additional modules.