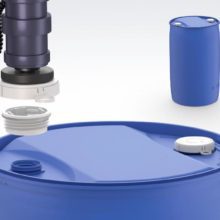 The new bung cap system for PE drums consists of a plug and a tamper-proof sealing cap, either in red or white, which cannot be opened without breaking the seal cap as the inner seal ring is firmly incorporated in the ring. The seal cap can be fitted automatically or manually and means the filling product is fully protected against unwanted discharge or contamination.
First of its kind
Automatic Lock is the only capping system that is suitable for use with automatic drum filling systems and it offers numerous other advantages over conventional solutions. In contrast, standard plastic caps only close the bung opening without providing a seal of originality, meaning that tampering can remain undetected. With Automatic Lock the seal cap is held by the plug and not by the bung so the broken seal cannot be repaired, and any tampering is instantly visible.
Compared with steel caps which are also fitted with a seal function to prevent tampering, key advantages of the new plastic system are the hygienic and non-corrosive material. Accordingly, Automatic Lock is certified for use on Schütz's Foodcert drums for food applications. In addition, the new sealing system is exceptionally user-friendly: the integrated ring pull does not require an extra tool for opening, as is the case with steel sealing caps.