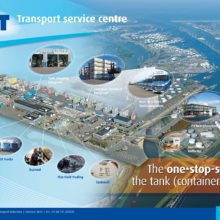 Expansion and cooperation
"In the last years we have expanded the location and also the facilities considerably and we now can say that we have been able to create something unique together; a one stop shop concept for all road tankers and tank container related activities", says Kees in 't Veen.
Full service package
The facilities offer tank and road tank transport via transport company, Kees in 't Veen Tanktransport B.V., separated food & chemical cleaning along with various additional activities such as purging and heating with Tank Cleaning Europoort, empty and loaded storage via Container Terminal Europoort in addition to maintenance, repairs, testing and specialized modifications & refurbs offered via Aspenal tank container services.
Flaxfield offers engineering and sales of new and used tank containers and has their office on the depot next to Aspenal. Flaxfield is partner of two major Chinese manufacturers, Singamas stainless steel tank containers and JOPM carbon steel gas tank containers in addition to being a partner and co-innovator of composite tank containers under the brand name Tankwell.
"Due to this cooperation the companies offer a full service package related to tank containers. This means knowledge of the market, flexibility and easy & transparent communication are standard. We strive to service our customers with a focus on economics, quality and an environmentally friendly way of working", concludes Kees in 't Veen.