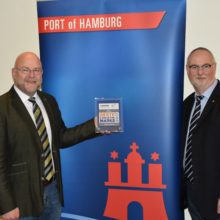 At the presentation of the awards, their prize was accepted for Port of Hamburg Marketing by joint CEOs Axel Mattern and Ingo Egloff. "We are pleased about this award. In addition to the recognition of Port of Hamburg's excellent performance, it emphasizes the successful positioning of the Port of Hamburg brand in the market" explains Mattern.
Port of Hamburg Marketing employs a total of 42 staff at its Hamburg head office and in its representative offices, spread across Germany, the rest of Europe and Asia. Together with its almost 300 members, the association carries the Port of Hamburg brand, strengthening the position of the Port of Hamburg in worldwide markets. Port of Hamburg Marketing does not act as an independent enterprise, but rather as a joint brand under the umbrella of port-related operators, who profit from the positive image established by Port of Hamburg Marketing (HHM).
In view of the ongoing competition with other North Range ports, the task of Port of Hamburg Marketing lies in providing a clear profile for the port and the whole Metropolitan Region, and further sharpening it. "We meet this challenge pretty well, as this award goes to prove," says a satisfied Ingo Egloff.
The work of the representative offices, active on behalf of members in the various markets, contributes to developing our competitive position. Diverse event formats facilitate the coming together of market partners. Trade fair and conference participation as well as project work, where HHM is active in EU and nationally sponsored invitations to tender, play an important role here. Supplying members with regular market reports and statistics, handling visitor groups and PR work round off Port of Hamburg Marketing's palette of activities.