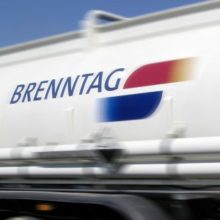 Brenntag generated sales of 2,973.3 million EUR in the first quarter of 2017, an increase of 15.2% on the prior-year period. The Group's key performance indicator gross profit showed strong growth, rising by 7.7% year on year to 631.8 million EUR. Operating EBITDA reached 201.6 million EUR, a rise of 4.9% compared with the prior-year quarter. Profit after tax was up on the prior-year figure of 66.0 million EUR to 94.7 million EUR in the first quarter of 2017, this translates into earnings per share attributable to Brenntag shareholders of 0.61 EUR.
Steven Holland, Chief Executive Officer of Brenntag AG, said, "Brenntag had a good start to 2017. We saw encouraging trends in the first quarter, with further growth in our EMEA and Asia Pacific regions. In addition, demand in North America improved slightly as expected and Brenntag therefore posted a rise in operating gross profit here, too. In our smallest region, Latin America, the situation in several countries remained difficult, but this was only of limited significance for the Group."
In light of the first-quarter results and macroeconomic developments in the regions, Brenntag continues to expect growth in its key performance indicators operating gross profit and operating EBITDA.