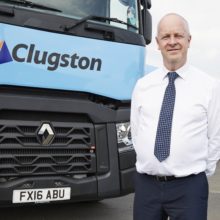 It's this ambition and foresight that is driving Clugston to further expand the Distribution arm's reach by leveraging The Group's wider capabilities and experience in construction, facilities management and property development.
With Clugston Group's turnover for the current year projected to be over £150m, it would position the company as one of the top 35 largest logistics groups in the Motor Transport Top 100 companies by revenue.
Celebrating its 80th anniversary in 2017, The Clugston Group has a long history of being not only a provider of distribution services but also a significant player in developing and supporting the built environment.
The property development division has undertaken some of the North of England's largest logistics projects, which include Turbine Business Park near Sunderland and Redhouse Interchange on the A1 near Doncaster. Combined with the construction and facilities management operations, which are Involved in £100m plus projects in the renewables and logistics sectors, The Clugston Group is a significant provider of services to the transport and logistics sector, with a particular specialist capability in bulk powders.
Bob Vickers, chief executive of The Clugston Group, said, "Using the broader opportunities presented by The Group's capabilities allows us to reach out to a host of new potential customers by offering them a wider variety of services."
"The Clugston Group can provide an integrated solution by identifying well located land to develop for a supply chain or manufacturing client, constructing the warehouse and subsequently offering a full logistics service, whilst also delivering a complete facilities management provision. This proposition,involving our ability to develop,construct maintain and provide logistics services, which is almost unique to The Clugston Group, is a strategic goal we plan to deliver in the years ahead."
David Heath, distribution director, said, "The Clugston Group has a long history of working in the logistics sector, which goes back many years. We intend to use the Group's heritage and experience to drive further growth in the future."