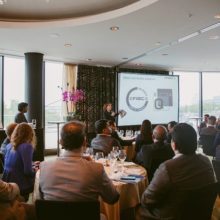 Guests were greeted by the EFIBCA President Mr Roelof Veld and EFIBCA General Secretary Dr Isabell Schmidt, who highlighted the important work EFIBCA is doing to promote knowledge and awareness about FIBCs, quality and ethics. The recently published EFIBCA FIBC User Guide was presented along with EFIBCA's quality and ethics initiatives for members, namely the EFIBCA-Q Quality Pledge and the EFIBCA Code of Conduct. All attendees received a printed copy of the EFIBCA User Guide and a day ticket to visit the interpack trade fair.
Guest speaker, Daniel Stricker, Head of Market Research and Editor-in-chief of KI (Kunststoff Information) presented on the development of the PP market in his presentation "Polypropylene on the way to autonomy", explaining the evolution of the primary material used in the production of FIBC from its birth from refinery remains to recent turmoil in supply and demand. Further he explained why, for the mid-term at least, propylene will be abundant rather than in tight supply.
Represented at this year's interpack at a stand with the German Plastics Packaging Association (IK), EFIBCA registered a strong interest in both the association and its members. "We observed representatives from all aspects of the industry coming by to find out more about our members or how to become a member. Almost a quarter of EFIBCA members had a stand at the fair, and some that didn't used ours to meet with customers and contacts," reported EFIBCA General Secretary Dr Isabell Schmidt.