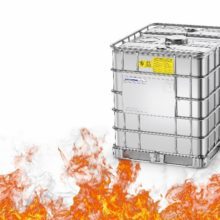 The fire-resistance of the SX-D was tested and confirmed in the UL 2368 test conducted by Underwriters Laboratories Inc. The independent organisation, headquartered in Illinois, tests and certifies product safety. Underwriters Laboratories awarded the IBC the UL-certified mark. This means that the container complies with the Fire Protection Directive "NFPA 30: Flammable and Combustible Liquids Code" of the National Fire Protection Association in the USA. It certifies that the Schütz Ecobulk SX-D is ideally suited for flammable and highly flammable liquids as well as for use in potentially explosive zone 1 and 2 operating areas.
Double security for even better protection of sensitive products
There is also a wide range of additional applications for this container. For example, the SX-D can be used for hazardous goods or other sensitive filling goods such as toluene diisocyanate (TDI). Until now, these filling products have been packed in smaller containers with a lower volume, such as steel drums, to minimise liquid lost in the event of an accident. The double wall of the SX-D greatly reduces the risk of leakage as should the inner container leak, the additional wall prevents sensitive or flammable media from seeping out into the environment.
Filling and emptying
Another safety feature of the design is that the container's three openings are located in the top plate and are additionally protected by steel caps. An opening with a nominal width of DN 150, a G2 and a S56 bung are used for filling and discharge. One of the bungs can be used to discharge product with a dip-tube system. In combination with a conventional pump system, this guarantees safe and easy discharge. The second bung is located close to the edge of the container and could be used to completely empty the container by tilting it.