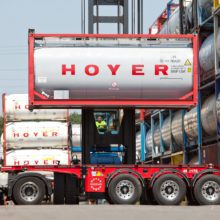 Heiko Rumfeld, Director Business Unit Netlog at HOYER Group, says "Digitising the logistics chain is a global challenge that HOYER has taken on board by implementing a highly specialised telematics solution. This shows how HOYER sets new standards in transport and in networking customers, suppliers and goods in transit."
HOYER goes one step further for its customers in this respect by implementing seamless monitoring of goods transported in tank containers at any defined point in time. However, this includes monitoring not only position as in the general cargo sector, but also the status of the transported goods with regard to their pressure, temperature, filling level and density parameters. A non-invasive filling level measuring system developed exclusively for HOYER solves a large number of technical challenges. Full ATEX certification for all the components completes the range of services offered.
HOYER gives customers access to this data, together with the transport order data, on a web platform that includes automatic monitoring and an alert if there are any discrepancies. Of the 37,000 tank containers in the HOYER fleet, 5,000 have already been upgraded, and around 8,000 tank containers per year will follow in each of the next few years.
HOYER presented the new Smart Logistics telematic system for the first time at the transport logistics trade fair in Munich earlier this month.