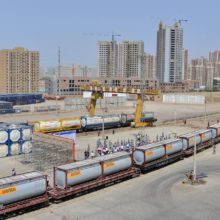 The containers transported high value chemical products from the production plants in China over the New Silk Road to their destinations in Germany and France and rail transport meant a saving of over 4,000 kilometers of travel from Korla to the closest seaports located to the East. They made the journey on a train with a total length of 800 meters and a weight of 3,000 tons over a total 18 of days.
The term "One Belt, One Road" stands for the development of the transport route between China and Europe and – driven by its location along the historic trade routes – it is also known as the "New Silk Road". The large-scale project was initiated by China and will require investments of approximately 1,000 billion US dollars. This includes the construction of rail lines, roads, ports and power plants.
Bertschi already pioneered the same route two years ago with the first block train loaded with chemical tank containers. The further development of the infrastructure along the New Silk Road will enhance the attractiveness of rail transport between China and Europe. Therefore the 82 Bertschi containers will most likely be followed by many more finding their way to Europe via the Silk Road.