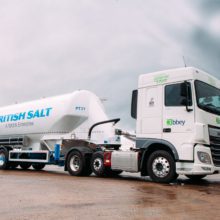 Tata Chemicals Ltd is one of the world's leading producers of sodium carbonate (soda ash) and sodium bicarbonate. Sodium carbonate is a key raw material used in glass, detergent and chemical manufacturing. Applications for sodium bicarbonate range from food to pharmaceuticals to air pollution control. In the UK, Tata Chemicals Europe is the sole producer of Soda Ash (sodium carbonate) and the market leading producer of sodium bicarbonate.
Sister company British Salt is the UK's leading manufacturer of pure dried vacuum salt products. It supplies over half the UK's pure white salts and other salt products from a self-sufficient, environmentally friendly, and high efficiency manufacturing facility site in Middlewich, Cheshire.
Abbey will provide transport for all products in bulk powder road tankers and distribute them to British Salt and Tata Chemicals Europe customers throughout the UK. Abbey will also take responsibility for transport planning and all on-site logistics services, and work in partnership with Tata Chemicals Europe and British Salt to develop and improve distribution flexibility and reliability to meet cyclical volume demands of individual products.
Abbey have provided transport services to Tata Chemicals Europe and British Salt for several years as a third-party supplier and during that time the two companies have developed a strong working relationship. Working in partnership, the companies have consistently demonstrated added value initiatives and continuous improvement programmes that maintains Tata and British Salt's world class levels of customer service and satisfaction.
Pauline Sumner – Tata Chemicals Head of Procurement said: "Through working with Abbey for a number of years we have seen first-hand the dedication and commitment they give to their customers. The partnership we have built has improved the service we provide our customers as we are able to deliver a safe, flexible and scalable transport solution, which is vital in the markets we serve."
Dave Coulson – Abbey Logistics Commercial Director said: "We are delighted that Tata and British Salt have entrusted Abbey with such critical services. We understand the sensitivities of seasonal food manufacture and have a deep knowledge of the complexities involved with sodium bicarbonate distribution, and very much look forward to supporting the continued success of Tata and British Salt and its customers."