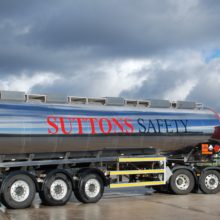 The deal confirms Suttons as the exclusive distributor of bulk hazardous liquids in the UK for the company which produces around half a million tonnes of products every year. The agreement also sees the investment in a brand new fleet of Euro6 vehicles at the BP Acetyls site in Saltend, East Yorkshire.
Suttons Tankers Managing Director Michael Cundy said, "We are delighted BP Acetyls chose to renew this business with Suttons and we look forward to a continued successful partnership. Our track record of providing a flexible, reliable, and safe service was a key factor in their decision and we will continue to focus on delivering a first class service."
Andrew Williamson from BP Acetyls Europe commented, "Suttons has proved itself as a safe and reliable partner delivering a high standard of service. Our relationship means we have a solid understanding of how our teams can work together to ensure continued success and that a quality product is delivered."
Suttons operates internationally with key business centres in New Jersey, Houston, Chicago, Widnes, Antwerp, Ludwigshafen, Paris, Kuantan, Singapore, Shanghai, Tokyo and Khobar.