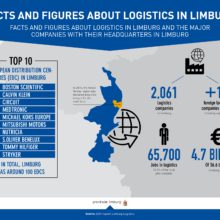 Limburg's central location is a key prerequisite for a successful logistics industry. The region is the southern prong of the Netherlands between Belgium and Germany, and is situated neatly in the corridor between the ports of Rotterdam, Antwerp and Duisburg. In addition, the province is criss-crossed by several motorways, rivers and canals. For this reason, a large number of logistics companies and service providers have settled in Limburg.
The region owes its distinctive benefits to its location at the interface between the Netherlands, Belgium, Germany and France. Its inhabitants are multilingual, communicative, and familiar with the business customs of their neighbours – and they view their border location as an opportunity: "We combine the best of three worlds: Dutch trading spirit and pragmatism, German standards of quality and reliability, and Franco-Belgian lifestyle," says LIOF, the Limburg Investment and Business Promotion Corporation.
"These are the foundations from which Limburg has developed into a first-class logistics hub. Logistics is an important future industry for us. That is why we are promoting business relocations and innovations in this sector," explains Twan Beurskens, Limburg's Provincial Executive member for Science and Knowledge. Studies comparing European distribution centres show that measured in terms of the costs of the entire supply chain and quality factors, Limburg is the leader for industries such as electronics & FMCG, fashion and lifestyle, food, fresh products, flowers and plants, med tech, automotive, steel and other manufacturing industry sectors. The industry employs 60,000 people who generate turnover of five billion euros.
Clusters + Logistics
To make effective use of the necessary commercial space, the regional administration has initiated the formation of industry clusters. A centre for medical technology has developed around the city of Heerlen, for example. "First the Medtronic group located here. We were able to develop a large med-tech cluster around this world market leader. As a result companies such as Abbott, ACIST Europe, DocMorris and Boston Scientific have moved here, bringing all their logistics with them. TNT, for instance, operates a special health care hub here," explains Martin de Beer, a head of department with the City of Heerlen. And this development continues: Medtronic has joined forces with CEVA Logistics and is currently building a 33,000-square-metre logistics centre. From here, 15,000 hospitals can be supplied within 24 hours.
Apart from a site on a commercial estate and transport links, qualified personnel are also required. The city actively assists logistics companies in sourcing suitable employees. "Apart from financial support, we organise follow-up training, help with recruitment, and assist potential employees in getting qualifications," De Beer says.
Campus + Business
A special feature in Limburg is the close cooperation between business and campus: The Fontys School of Technology and Logistics for example offers courses of study that are geared to the needs of the regional logistics industry. "On request we can also arrange continuing education on specific subjects," points out Hans Aarts, director at Fontys. Furthermore, numerous projects are effected with the collaboration of research, businesses and the authorities supported, in part, by the European Union. "Customs is an exciting topic, for instance. Lots of containers arrive from Rotterdam in Venlo unopened and duty is then charged on them here before they proceed. That is why we have a project on this subject, for example." Other partnership projects revolve around topics such as e-fulfilment.
About logistics in Limburg
The diversity and complementary nature of Limburg's logistics industry is reflected in the players who have joined forces under the label of "Logistiek Limburg": Broekman Logistics, Emons Group BV, Flex Global Services and Solutions (Flextronics), Fontys University of Applied Sciences/KennisDC Logistiek Limburg, Gehlen Schols Logistics, the municipalities of Heerlen and Venlo, KLG Europe, Koopman Automotive Solutions BV, LIOF, Maasterminal Maastricht BV, Multitax Transport International, Otto Work Force, TANS, VIA Recruitment, Welsi BV, Wessem Port Services Group BV and Wetron Transport & Logistics.