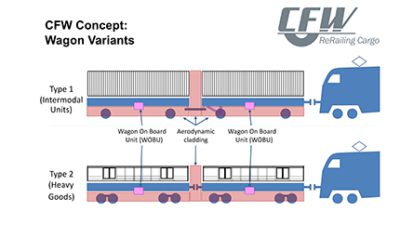 The CFW initiative (Competitive Freight Wagon) intends to develop a novel freight wagon to make rail transport significantly more attractive, in particular for high value time-critical goods, which are hardly ever transported on rail today.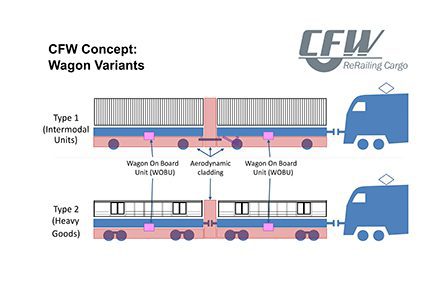 The CFW concept comprises the following features:
Lightweight construction from composite materials for improved train dynamics, reduced deadweight and higher payloads
Aerodynamic cladding of wagon frame, chassis and running gear for less noise and reduced energy consumption
High performance electropneumatic disk brake for high speed and improved train dynamics, enabling access to fast train slots, in particular between passenger trains during the day
Modular design with exchangeable top units for multiple goods to achieve high mileages and to thereby compensate the expected higher initial costs compared to conventional wagons
Center buffer coupling for significantly improved longitudinal dynamics, with the fully automated variant enabling easier, faster and safer train assembly and disassembly to provide an economically viable perspective for single wagonload transport
Electrification (e.g. for reefers) and telematics services for continuous monitoring of the vehicle and its cargo
Thanks to these features, the wagon is not only fast and economically efficient, but it also causes significantly less noise than the models available today.
The CFW initiative comprises industrial companies (Scheidt & Bachmann System Technik, Contitech) as well as rail and logistics experts (ConTraffic, TransCare) and research centers (German Aerospace Center, CEIT, Institute of Lightweight Engineering and Polymer Technology at Dresden University of Technology). As one of the biggest European freight wagon rental companies, Ermewa is going to join CFW. Ermewa's precise feature requests and opportunities for showcase operation will support the breakthrough of the needed revolution.