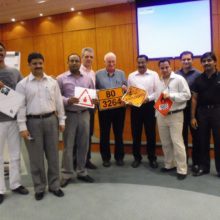 This popular course will take place at the Asia Tank Container Association training centre and is specially designed for tank container operators to enable them to cope with the greater and continual increase in the amount of regulation concerning the transport of dangerous goods in tank containers.
Led by Roy Boneham, the course has just 10 places and will be held between Wednesday 13th – Friday 15th, continuing from Monday 18th – Wednesday 20th September 2017. It will cover dangerous goods regulations, the classification of chemicals, design and construction of tanks and finally operating requirements whereby the previous parts of the course are all brought together. Roy stated, "It will provide an invaluable in depth introduction to operating conditions."
Roy explained that a major change to the dangerous goods regulations recently took place on 1st January 2017. "This concerns the new classification rules for substances with the potential for a dangerous polymerization reaction. The course, now extended to six days, will allow for an explanation and detailed consideration of the likely impact of these new rules on tank container operators, particularly the impact of the assignment of portable tank special provision TP6 to these substances."
Trainees from all over the world have already benefited from the course and you can register your interest at www.newalchemy.co.uk with a 5% earlybird discount claimable on reservations made before 1st August 2017.