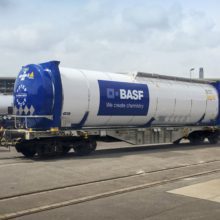 The signing of this major order was preceded by more than two years in which BASF and Van Hool co-operated to develop the various new types of tank container. The 45ft units (basic volume of 53cbm or 63cbm) and 52ft (basic volume of 73cbm) have load capacities of 66 to 67 tonnes. Ninety units and two prototypes will be delivered this year. The balance of the order will be delivered in 2018.
BASF's aim in introducing the new units is to make conventional rail transport just as quick and flexible as combined transport without losing the advantage of the existing high load capacities of conventional rail tank transport.
With a volume of 63,000 litres and a maximum safe load of 66 tonnes, the 45ft tank container offers double the load capacity of tanks currently in general use; similar to that of a chemical tank wagon.