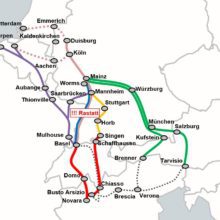 Normally, hundreds of freight trains run on the rail freight corridor Rotterdam-Genoa every day. The Rastatt interruption directly affects the Hupac network with 155 train pairs per week on the relations Benelux-Italy, Germany-Italy, Scandinavia-Italy, and import/export Switzerland. Because of the Italian holiday "Ferragosto" on 15th of August, the impact is quite limited yet. All the more urgent is the immediate development of diversions and alternatives in close cooperation with the railway and terminal partners, in order to be able to offer appropriate solutions with the increase of transport demand.
For the calendar week 34 (from 21st to 27th of August) Hupac has planned diversions and alternatives for 50% of the canceled trains. In view of the fact that demand is still low, this is likely to meet the most urgent needs.
| | |
| --- | --- |
| Planned Diversions | Roundtrips in week 34 |
| Via Stuttgart | 41 |
| Via Brenner | 8 |
| Via Tarvisio | in progress |
| Via France-Sibelit | 5 |
| Via France-Alsace | in progress |
| Inland Navigation | |
| Barge Worms-Basel | 2 (train equivalent volume) |
| Barge Worms-Basel with final destination Italy. | 3 (train equivalent volume) |
| Alternative South of Rastatt | |
| Singen-Busto | 5 additional |
| Basel Bad-Busto/Novara | 8 additional |
Further efforts are needed to compensate for the serious consequences of an interruption at a central section of the rail freight corridor Rotterdam-Genoa. The exchange of goods between Germany and Lombardy, central and south Italy is today carried out in combined transport at around 50%. Conventional rail transport has a market share of 10%, while road transportation covers 40%. Given the current positive economic situation and the resulting high capacity utilization in European road transport, the road will not be able to cope with the capacity deficit caused by the blockade in Rastatt as of September.
Significant disruptions in the trade between Germany and Italy will be the consequence in case of insufficient combined transport capacities. The following measures are required:
Mobilization of locomotives and train drivers on the left Rhine valley in cooperation with SNCF
Additional train paths on the Brenner and Sibelite routes
Additional railway resources (locomotives, train drivers, ground staff) to be able to act efficiently and flexibly in this exceptional situation.
Customers have to recourse to other modes of transport if there is not sufficient capacity on the rail. A switch to the road is problematic because the needed resources (trucks, drivers) are often not available at short notice. Therefore it is important to give priority to combined transport when allocating scarce trains paths.
Hupac sees the greatest risk as a loss of trust on the part of the customers in rail transport if the system is not able to demonstrate flexibility and customer orientation in the case of disturbances of this magnitude.