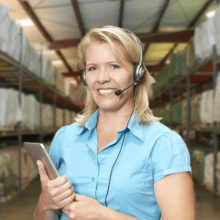 Conitex Sonoco created the BulkSak® On-Demand program to address an industry need for quick access to domestically-available bulk bag inventory in the US. Conitex Sonoco, with an FIBC manufacturing facility in Malvern, Arkansas, is one of only a handful of bulk bag suppliers with US-based manufacturing as well as US warehouse locations.
"With overseas manufacturing lead times ranging from 12-15 weeks or greater, an inventory shortage could be catastrophic to a bulk bag end-user," explains David Monteith, VP Flexible Products Division at Conitex Sonoco. "The BulkSak® On-Demand program will supplement our existing domestic FIBC manufacturing and provide the opportunity for immediate shipments."
"We have spoken with many purchasing executives who have lamented over the ever-increasing pressure to drive costs down, including their internal labor resources," states Richard Brooks, Director of Sales and Marketing at Conitex Sonoco. "With an overtaxed workforce and rising or unpredictable demand for product, manufacturers have no way to forecast reliable production levels. This creates a recipe for disaster in a growth economy."
The BulkSak® On-Demand program will provide fast access to various standard bulk bags, as well as select specialty bulk bags and a wide range of flood and erosion control bags. Most stocked inventory items ship the same day when ordered before 1:00 p.m. EST and are available in pallet quantities.