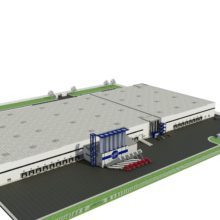 This agreement is a continuation of the memorandum previously signed detailing the participation of all parties in the development of a major logistics center. According to the ensuing agreements, Schmidt will construct the HUB on the premises of the Freight Village Worsino Terminal with the objective to distribute products from SIBUR's ZapSibNeftekhim manufacturing site in Tobolsk,currently under construction and designed to produce 2m tons of polypropylene and polyethylene annually.
The agreement encompasses all relevant services for receiving, packaging, storing and shipping the polymer products to SIBUR's Russian business partners and those abroad for a duration of 20 years. Products will be transported from SIBUR locations to the HUB in containers via block trains substantially increasing efficiency compared to traditional transport on pallets. Total HUB capacity is approx. 670,000 tons p.a. and SIBUR's polymer production share of 500,000 tons p.a. will ensure the HUB's pro rata utilization accordingly. This container terminal with a capacity of 1300 40′ containers and its refurbished warehouse will be able to accommodate more than 40,000 tons of polymer products at any given time.
The agreement signed during the forum assigns a series of initiatives to the parties regarding the development of the Kaluga polymer processing cluster as well as the implementation of state-of-the-art logistics solutions with Schmidt's total volume of investments exceeding 2bn rubles.
In addition to closely cooperating with SIBUR, Schmidt will be able to use this facility as HUB and distribution center for clients in Russia and Western Europe.