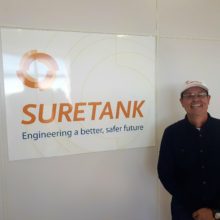 In this newly created role, Mr Gurgel will head up the company's operational cost savings program, Suresave, providing strategic support and advice to customers to help improve efficiency of their operations, and deliver value added propositions with immediate impact on cash management.
Mr Gurgel brings with him extensive experience having spent 19 years with BR, a subsidiary of Petrobras and the largest distributor and marketer of petroleum derivatives and biofuels in Brazil. During his last 11 years with Petrobas he was responsible for the management of more than 90 percent of the chemical market for offshore oil production in Brazil. He has held a number of senior management positions and has an MBA in Auditing & Finance, and Business Management from UFF and FGV – Brazil.
Mr Gurgel joins Suretank as part of a continued investment programme to extend the company's global leadership in the offshore tank market to Brazil and Latin America.
Mr Gurgel said: "I am delighted to join the business at such an important time. There is a real passion at Suretank for delivering innovation and cost savings to its customers. I am looking forward to working with the team to provide sustainable, cost saving solutions. "
Marco Pfeifer, CEO of Suretank Latin America, added: "This is a significant appointment for our business. Gurgel has extensive knowledge of the chemical logistics' market for the exploration and production of Oil & Gas. He is a very valuable asset to have in such a challenging market. "
Suretank claims to have the largest number of DNV 2.7-1 certified products and, in Brazil, works within NORMAM 5 (Brazilian Navy's requirement for operation with dangerous cargoes in the offshore market).
Suretank has design and manufacturing facilities in Ireland, UK, Poland, Thailand, Brazil, USA and China as well as sales offices in USA, UK, Thailand, Australia and Brazil. Suretank's product range includes Chemical and Acid transport tanks, Helifuel tanks, offshore Containers, Baskets, offshore Mudskips and Cryogenic tanks.