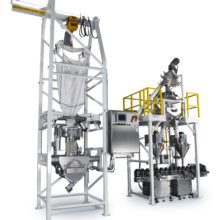 Process safety, and product safety gains were also realized as the enclosed bulk bag discharging, material conditioning, feeding, and filling systems protect operators by preventing migrant material dusts from entering the process area. The enclosed design also protects process material from contamination.
This fully automated, bulk material handling and packaging system is built on the NBE integrated construction and controls infrastructure. The complete process sequence, including: bulk bag loading and conditioning, material size reduction, feeding, and package filling, operates on paired, process-specific structural framework chassis with all automation and control functions centralized to a single, menu-driven HMI to enable standardized and system-wide data reporting. The NBE integrated construction and controls infrastructure provides the basis for reduced total cost of ownership, relative to the common systems integration concept of bolt-together, divergent 'islands' of equipment and controls, while also improving process performance and the accuracy of production data shared throughout the enterprise.
This NBE bulk bag unloader and container filling system was built based on HACCP assessments that guided the determination of the framework and component materials of construction.