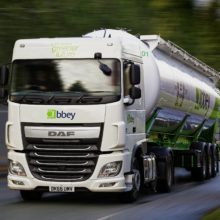 In addition, Abbey Logistics will also be implementing Microlise Remote Digital Tachograph Download, which automates the collection of drivers' hours on a regular basis, no matter where the vehicle is.
"The deployment of Microlise Fleet Performance will give us the visibility we need to make effective improvements quickly," said Steve Granite, Abbey Logistics Group CEO. "We are also hoping to free up management time by removing many manual processes and focusing our resources where they are needed. All of this is aimed at delivering the best service for our customers."
Abbey Logistics Group was bought in August 2016 by management with funding from a Manchester-based private equity firm. It has announced a string of award wins and nominations in 2017, as well as several large contract wins.
"There is great energy and enthusiasm at Abbey Logistics, along with an excellent company culture. The success it is seeing as a business is no accident. We're pleased to be supporting the operations team with a telematics product to help identify and enact efficiency improvements." said Nadeem Raza, Microlise Chief Executive Officer.
DPM runs on both Android and iOS devices, delivering increased driver engagement with telematics, whilst at the same time reducing management resource requirements.