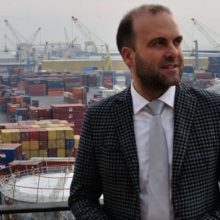 [pullquote]Romania has the great chance to win the big challenge of logistics[/pullquote]
Circle, a logistics consulting firm for optimizing port and intermodal transport operations took part in the annual event organized by the Port of Constanta in Belgrade, Serbia. CEO, Mr. Luca Abatello, explained the main evolutions impacting Black Sea Ports in terms of market, with reference to new international corridors and the relevant agreements between the countries involved. In particular, the corridor connecting the Persian Gulf with Europe (crossing the Black Sea) has a crucial role.
"Romania is the EU entry pass for the New Silk Road due to the favorable geographical position of its Ports. Thanks to its natural location, through the Ports of Constanta and Galati conceived as a natural connection between Europe and the Far East region and representing a direct intermodal link to Central and North-Western Europe, Romania has the great chance to win the big challenge of logistics". Stated Mr Abatello.
Mr Abatello went on to state the strategic key for meeting this challenge consists in improving efficiency, automation and optimization performances in order to meet customer requirements and security standards, but also in shifting competition strategies from port-centric based to port-corridor based ones.
Technological innovation is considered the main asset to achieve these requirements, specifically through the enhancement of visibility and security of goods, and through the possibility to inter-operate with regulation compliant systems such as the EU National Maritime Single Windows and New EU Customs.